COVID-19 Relief Fund of SERVE
You can donate online via – https://www.servelk.org/donate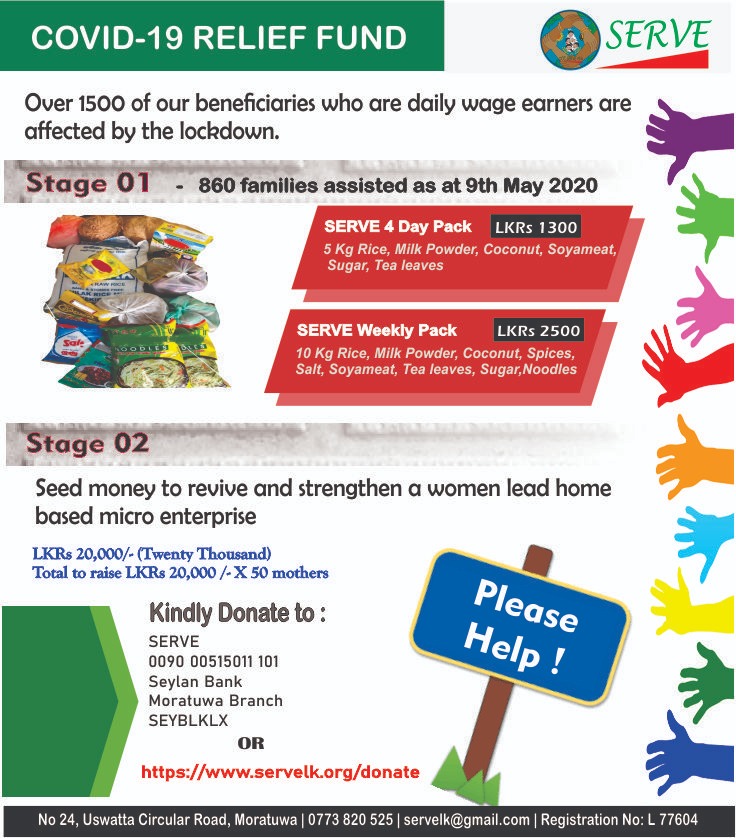 SERVE is a Sri Lankan NGO.
We work for the empowerment of children and women.
Our main projects are implemented in Moratuwa and Panadura.
Our beneficiaries are daily wage earners and due to the present situation, they are unable to work and earn as there is ongoing police curfew and locked down in these cities as they are considered high risk areas for corona virus.
The home based businesses have also come to a stand still.
We have over 1500 children and women as our direct beneficiaries who are in need of basic food items.
We are now seeking the support to assist our beneficiaries in the coming days / weeks to provide food items.
1. Help with food for a week
A pack of dry rations.
The cost of a pack is LKRs. 2500/- (Two Thousand Five Hundred only)
Total to raise Rs 2,500/- x 1500 families
2. Revive and strengthen a women lead home based micro enterprise.
LKRs 20,000/-
Total to raise Rs 20,000/- x 50 mothers
Kindly donate to :
Account Name : SERVE
Account Number : 0090 00515011 101
Bank : Seylan Bank PLC
Bank Address : Seylan Bank, No.433, Galle Road, Rawatawatta, Moratuwa, Sri Lanka.
Swift Code : SEYBLKLX
You can donate online via – https://www.servelk.org/donate
Please feel free to call me on 077 382 0525 for any additional information or clarifications.
Thank you.
Sanjeeva de Mel
Executive Director